Richard John Hatton MBE, or Ricky 'the hitman' Hatton is one of the UK's most successful, and arguably the most popular British boxer of all time. Born in Stockport and raised in Hyde, Greater Manchester, where he continues to live and work today, Ricky transcended the sport of boxing to become one of the country's most adored sportsmen.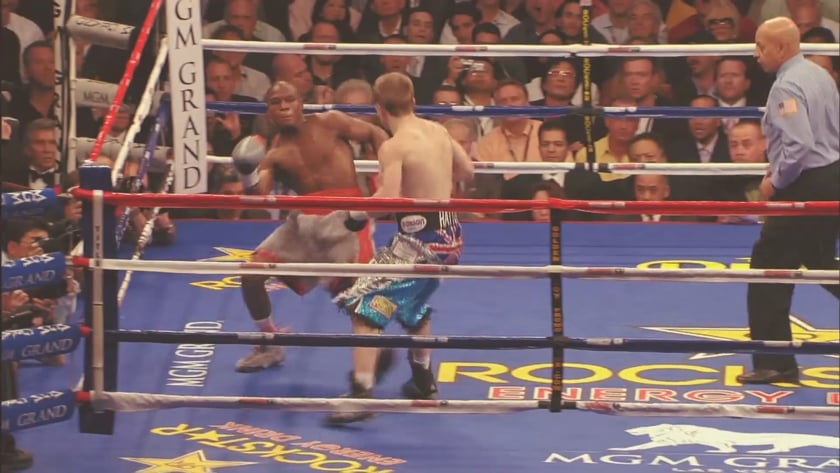 October 6, 1978
Hatton was born in Stockport, England
Richard John Hatton was born at Stepping Hill Hospital in Stockport. Weighing nine pounds and four ounces he was something of a whopper and, due to complications during labour, he was born with bruises around both of his eyes, causing a midwife to refer to him as a 'little bruiser'.
After taking up kick-boxing at the Centurions Gym in Hattersley, Ricky began boxing under the tutelage of Ted Peate at the Louvolite club in Hyde. He would later be trained by Paul Dunne at Sale West and won his first national amateur title age 13 by beating Michael Beary in the 1992 Junior A Schoolboy Championships.
1992 to 1997
The amateurs
Ricky established himself has one of the best amateur boxers in the country and won a raft of national titles. He would go on to reach the semi-finals of the World Junior Championships in Cuba in 1996 and won the senior ABA title at 64kg a year later.
11 September 1997
Turning pro
Ricky turned pro with a one round retirement stoppage of Colin 'Kid' McAuley in Widnes. Boxing News reported: "McAuley's contribution was negative as he backed off around the ring and Hatton tried to sink in body shots from either hand. He eventually succeeded with a thumping left hook to the ribs and while Colin made it through to the bell, the Liverpool man was in obvious distress as he vomited into a plastic bowl."
21 October 2000
British light-welterweight champion
Despite sustaining a cut needing 26 stiches during the first 15 seconds of the fight, Ricky outfought the experienced Jon Thaxton to win the vacant British light-welterweight crown. Ricky said: "I have been dismissed as a brawler by some experts and I can brawl with the best of them, but I also have technical skills and in that fight I needed them. I used those skills to choose my shots and keep Thaxton at bay and I think I won the fight by a distance."
After gaining experience as the WBU champion, Ricky reached the pinnacle of the light-welterweight division when he dethroned long-time IBF king and pound-for-pound number three Kostya Tsyzu in front of more than 20,000 vociferous fans at the MEN Arena. The win has gone down in history as one of the greatest ever performances on UK soil and launched the Hitman into superstardom. He would end 2005 by winning another world title with a knockout of WBA champion Carlos Maussa and became the first ever Briton to be named as Ring Magazine's Fighter of the Year.
13 May 2006
Two-weight world champion
Ricky fulfilled his dream of becoming a two-weight world champion by outpointing awkward southpaw Luis Collazo in Boston, Massachusetts. Ricky dropped the American with a left hook in the opening round before boxing his way to a unanimous decision.
2007 and 2009
Mayweather and Pacquaio
Ricky's determination to prove himself saw him lock horns with the two best fighters on the planet. In December 2007, he took more than 30,000 fans with him to Las Vegas to see him face Floyd Mayweather Jnr. Ricky made the fight very competitive and many feel his chance of victory was taken away from him by referee Joe Cortez, who regularly broke up Hatton's attacks and did not allow him to work on the inside. Following victories over Juan Lazcano and Paulie Malignaggi, Ricky again attempted to become the pound-for-pound number one against Manny Pacquaio but was stopped in the second round.
24 November 2012
The comeback
After a brief retirement, Ricky got himself fighting fit and made an incredible comeback against Vyacheslav Senchenko at welterweight. Tickets sold out in 48 hours and another incredible night was on the cards. Sadly, Ricky was stopped by a body shot in round nine, but he was pleased with what he'd achieved. "I got what I wanted from my comeback even though it ended in a defeat. I needed to find out if I still had it, and I didn't. It allowed me to move on with my life," he said.
Since hanging up his gloves Ricky continues to take an active role in a series of Hatton Boxing projects while training and managing a group of talented young fighters out of his gym in Hyde. Having recently launched a new range of Hatton Boxing equipment and with the Hatton Academy training thousands of fitness professionals every year to use boxing as part of their training programmes, Hatton Boxing and Ricky continue to promote the health, fitness and societal benefits of taking an active involvement in the sport.